A workmen's compensation policy entails a wide scope of coverage for the insured organization. The
the policy covers financial liabilities in case of physical injuries, permanent or temporary disablements, and even death of the organization's employees due to unforeseen perils of employment.
Moreover, a wide range of policy extensions is available to provide the maximum scope of coverage of the policy. The sum insured by a workmen's compensation policy is unlimited because it will pay for whatever amounts the court award. As such, many policyholders struggle to determine the right price to pay for the policy.
The premium determined for this policy depends on a number of factors shown in the below infographic.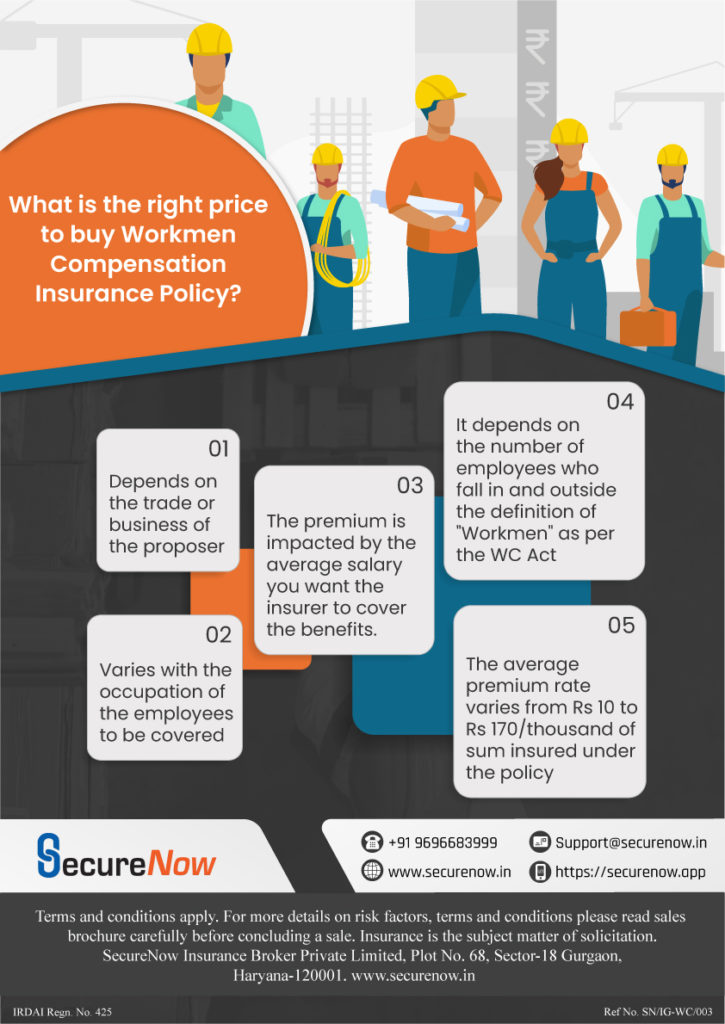 Insurers will ask for all of this information in their proposal forms when reviewing your purchase request for a plan. Coverage under the policy is granted in two distinct tables.
Table A covers the Workmen's Compensation Act, 1923, Fatal Accidents Act, 1855, and Common Law while Table B covers only the Fatal Accidents Act, 1855, and Common Law. The premium is, therefore, determined for each table separately.
The premium rates for different industries can be different, depending on how the insurance provider perceives the related risks. However, these are the costs if bought through an experienced intermediary. If the company approaches the insurer directly they are likely to get the "rack rates" that can be twice these premiums.
So, keep these factors in mind when deciding to go for this policy. Options to pay workmen compensation premium. You can pay the premium of your WC policy through different modes like cash, cheque, demand draft, debit or credit card, net banking, RTGS or NEFT, UPI, mobile wallets, etc.
How to minimize workmen's compensation Insurance premium?
Following are the ways in which you can minimize the workmen's compensation cost:
Most importantly, work with an intermediary that understands the product and knows the fair
rates for different risks
Compare different workmen's compensation policies based on their coverage and premiums.
Comparison helps you pick the best policy for you
Take steps to manage risks at the workplace e.g. install skid-resistant doors
Maintain a good claim history
Buy annual policies that are renewed each year. This builds the insurer's confidence in your
operations.