According to the Workers Compensation Act, 1923, Factories Act, 1948, and Common law, companies require to pay compensation to their employees and workers if they suffer physical injuries or death during the course of their employment. Since such injuries or deaths are uncertain, organizations face financial uncertainty. A workmen's compensation policy helps companies cover these financial uncertainties. The policy covers the financial and legal liabilities suffered by organizations and gives them financial relief. A careful research and scrutinizing the right insurer for Workmen Compensation policy should be part of financial planning of any organization.
A workmen compensation Insurance is quite relevant to an organization's financial well-being and so, it is offered by almost every general insurer in India. Organizations, therefore, have a choice of multiple workmen compensation insurance companies to choose from. In such a case, choosing the right insurer requires careful consideration of all factors on which they can be judged.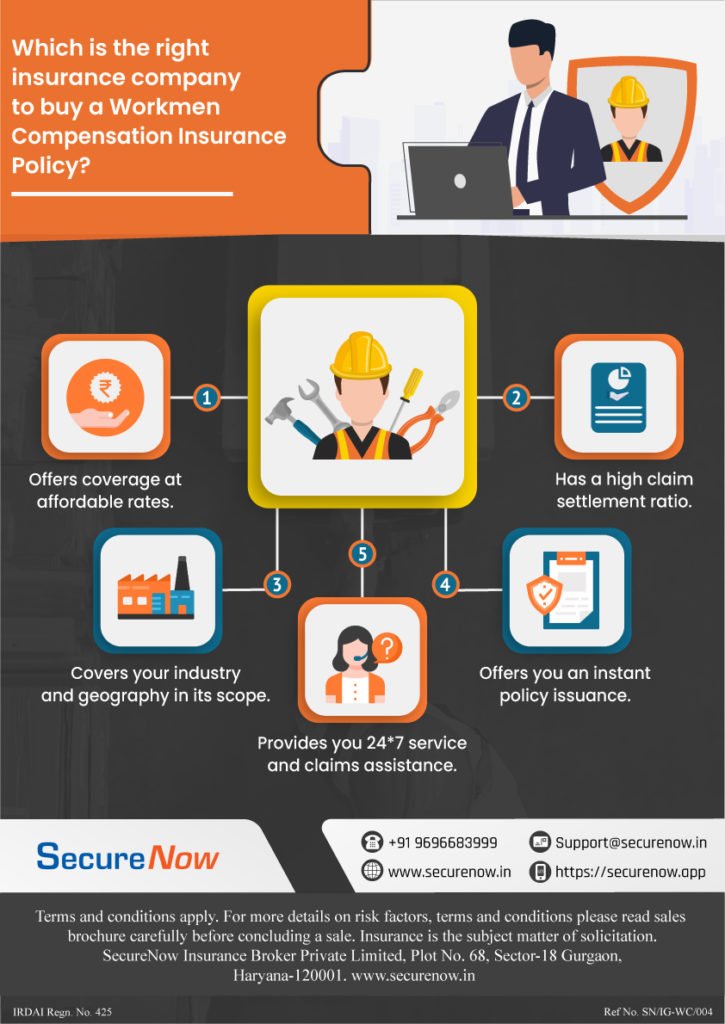 Choosing the best Employees compensation insurance policy suitable for you is challenging. Because it impacts the future of your business. The type of coverage offered by these policies remains the same as per the provisions of the Workmen Compensation Act, 1923. However, what variables you get along with basic coverage and what value it adds to your business for the premium you pay is what decides it as the best workmen compensation policy
How SecureNow can help in finding you the right insurer for your workmen compensation policy?
If you want to find the right insurer, you need to compare the available companies for Employees compensation policy on the above-mentioned criteria. SecureNow helps you do just that. We are a tech-focused insurance broking company.
You just need to fill in your contact details. Get the quotes in just 5 mins with our inbuilt calculator. Compare the available choices and then pick the best quote that suits your requirement. Thus, with SecureNow's help, you can find the right insurer and, that too, in the most convenient way.