While group travel insurance is taken as a comprehensive cover for people belonging to a group travelling to same/similar destination, the type of cover may differ as per the policy terms.
Below is a brief comparison of the different features of group travel insurance to look out for.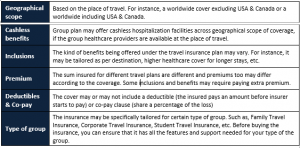 A Case of comparing Group Travel Insurance
Rajiv has planned an elaborate summer vacations to Europe with his family (wife and 2 children) plus brother's family, sister's family, seniors in the family and few cousins. The total group count adds up to 20 people and they will all be travelling together from Mumbai. While consulting with the travel agent he has also taken a

group travel cover

instead of an individual one for each member as that works out cheaper for all. The scope of the insurance is across Europe. Since the children plan on indulging in water sports like scuba diving, etc. he has opted for a slightly higher premium for the added cover. Also, as the plan offers cashless hospitalization facility at major European hospitals at the destination they are travelling to.
Texa Solutions is an IT company sending 10 employees for a conference to Singapore. The company opts for a corporate travel insurance cover which will cover the employees through the length of the trip. The cover is applicable across most major Asian countries including Singapore. The premium amount is fairly low, considering there is also a deductible clause added to the policy. Hence in case of a medical emergency the employees would need to pay a fixed amount of Singapore dollars while availing any medical treatment.
Thus, each of the group travel cover has been taken with features suiting the needs of that group and its members appropriately.
See – Different types of group insurance policies available in India