Buying a worker's compensation policy is one way you can take care of your employees. Since the world is full of uncertainties where you don't know what the future holds for you, it is advisable to take precautions today for a better future. Particularly if you own a business, then you should prepare yourself to deal with the associated risks.
With the hard work of your employees/workers, your business thrives. It's your responsibility to look after your greatest assets, i.e. your employees.
How can you do that?
Before telling you more about the niceties related to this policy, let's look at what workers' compensation is:
What is the Workers' Compensation Policy?
Workmen's compensation policy is the primary method by which you (as an employer) meet the responsibilities imposed by the worker's compensation statutes. The policy covers your statutory liability for death or bodily injuries caused to your employees, which arise during employment.
A Workmen's Compensation policy helps the employer cover his financial liabilities as stated under the Workmen's Compensation Act, 1923. The policy covers the liability faced when a workman suffers the following consequences –
1. Death
2. Permanent total disablement
3. Permanent partial disablement
4. Temporary total disablement
Moreover, the legal costs incurred by the employer are also covered under most Workmen's Compensation plans.
In case of a claim, the following process should be followed by the employer to register the claim with SecureNow as given in the infographic.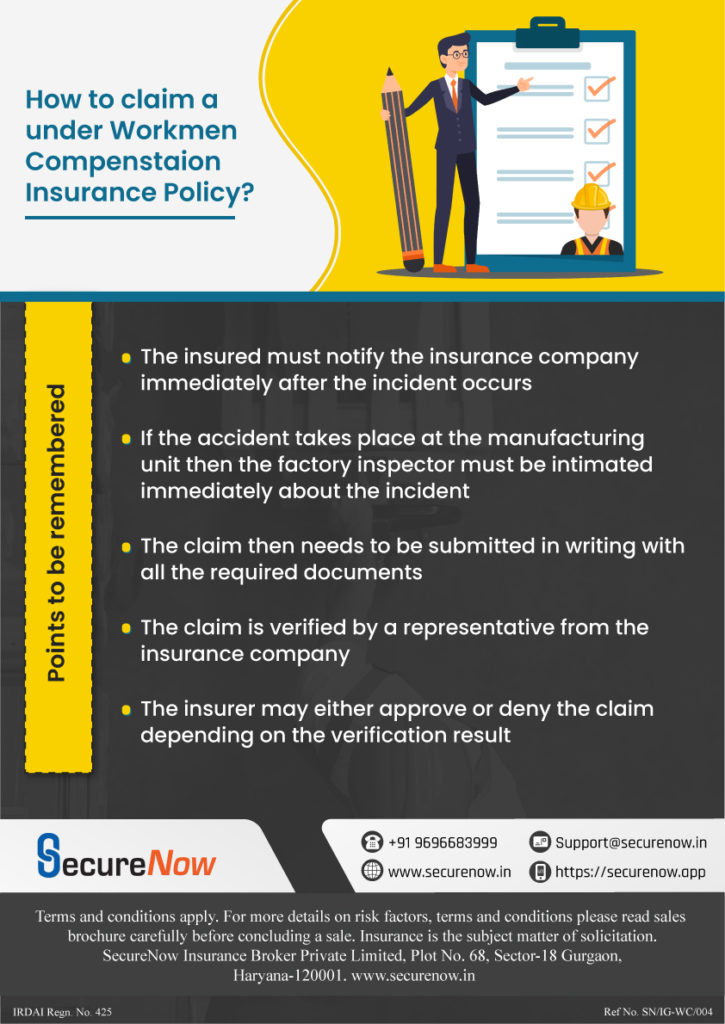 Role of SecureNow
The employer should follow the claim process properly. Furthermore, they should submit all the above-mentioned relevant and required documents pertaining to the claim so that the Workmen's Compensation policy pays the liability faced by the employer. Following the right claim process will ensure that the claim turnaround time is low and that the claims get settled at the earliest. Approach your intermediary to seek more information. The advantage of working with an experienced insurance broker is that they will support you through the entire claims process.
Do reach out to support@securenow.in for more information.