While making a claim under group personal accident insurance, the employer needs to give complete personal information with the required documents. Claims can be rejected if the documentation is incorrect, or the claim involves an excluded condition
The infographic below explains how SecureNow offers an easy claim process.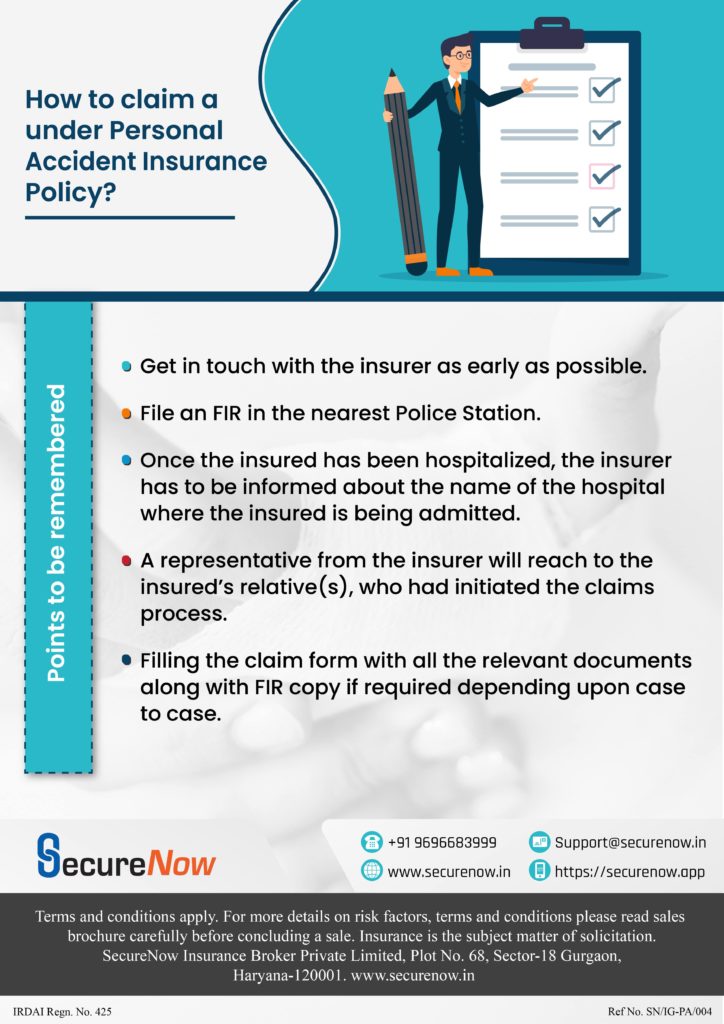 This policy can also provide tax benefits to an employer. The typical cover offered by the employers to employees under the group personal accident insurance is 3 to 5 times of annual salary of the employee. The higher the insurance cover the more is the security for the employee.
You can minimize the cost of this policy through better negotiation with the insurer, by signing up for multiple years, and by optimizing on non-essential add-ons depending upon your industry. Also, employers with low claims over multiple years enjoy lower premiums in policy. The team of SecureNow will negotiate the best terms on your behalf as a service provider.
The insurance covers accidental death, permanent partial or total disability, temporary total disability, and dismemberment of the employees.
Various add-ons & exclusions should be planned and understood carefully while buying this policy. Same applies to Personal Accident Insurance that can be bought from convenience of you home. To buy Personal Accident Insurance please visit www.securenow.in or  download SecureNow Insurance App.
Negligence or misunderstanding can cause hurdles during the claim process. Some of the common reasons why claims get rejected are accidents when intoxicated, gross negligence and accidents while not at work.