Published in Mint on 21st March 2018.
After being chided by the Delhi High Court for turning a blind eye to how insurance companies are misusing the exclusion clause of genetic disorders in health insurance policies, the Insurance Regulatory and Developing Authority of India (Irdai) has asked insurance companies to remove genetic disorders from the list of exclusions in health insurance contracts.
In a 19 March 2018 notification, Irdai stated that no claim in respect of any existing health insurance policy shall be rejected based on exclusions related to genetic disorder. It also added that insurers will no longer have genetic disorders as one of the exclusions in existing as well as new plans launched.
For policyholders and potential customers of health insurance, this move is the first step towards cleaning up exclusions to make them sharper and unambiguous. This doesn't mean that insurers are now mandated to insure customers that have known genetic disorders; insurers can still refuse to insure you, but once insured, they can't reject a claim by tying the ailment to a genetic disorder.
We explain this in detail, but first a bit about the court order that led the insurance regulator to snap into action.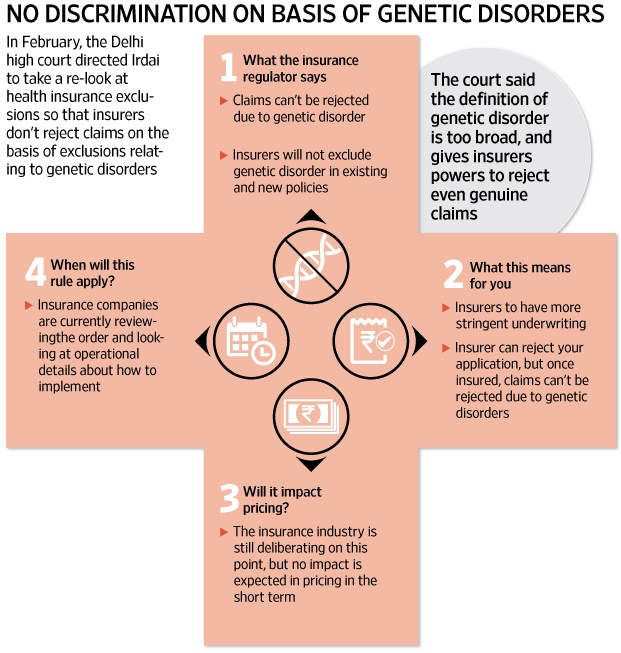 The issue
Jai Parkash Tayal, a policyholder of United India Insurance Co. Ltd, took his insurance company to court because it denied his claims on the grounds that his ailment—hypertrophic obstructive cardiomyopathy—was a genetic disorder and genetic disorders were excluded from the policy. The same insurer had paid his claim in the past for the ailment. The insurer rejected the claim subsequently because it had revised the terms of the policy and added genetic disorders to the list of exclusions. So, on renewal—health insurance policies typically are yearly contracts that have to be renewed every year—Tayal was bound by the new policy contract. The trial court found the exclusion unfair primarily for two reasons: One, that it is unfair to add exclusions after a person has bought the policy. Policies should be renewed on the existing terms and conditions. And two, that there can't be a discriminatory clause against people who have genetic disorders.
Upholding the trial court's judgement, the Delhi High Court noted that the insurer had categorised the ailment as genetic disorder on the basis of family history and not on the basis of genetic testing, and so the application of the exclusion was untenable. According to the court, the definition of genetic disorder is too broad based, which gives a lot of discretionary powers to the insurers to reject even genuine claims. "Several of the prevalent medical conditions which affect a large mass of population, including cardiac conditions, high blood pressure, diabetes in all forms, could be classified as genetic disorders. The entire purpose of taking medical insurance would be defeated if all genetic disorders are excluded," stated the order.
Accordingly, the court directed Irdai to review the exclusionary clause to make sure that claims don't get rejected on grounds of genetic disorders.
What this means for you
Irdai's notification brings greater transparency as insurers can no longer hide behind the vague definition of genetic disorder to reject a claim as it happened with Tayal. However, insurers are still deliberating on how to implement the notification. "In principle it means that the exclusion of genetic disorders in the policy terms and conditions stands removed for both existing and new policyholders. We are currently reviewing the operational implementation of the same," said Anuj Gulati, managing director and chief executive officer, Religare Health Insurance Co. Ltd.
What one must keep in mind is that the notification doesn't mean that a person with a known genetic disorder will get insured. At the time of underwriting policies, insurers are free to refuse health insurance to customers they see as unfit. So, ailments like cancer are typically red flags for insurers and they refuse an insurance policy altogether. If insurers agree to cover a pre-existing ailment, they do so with a certain waiting period. But once insured, the insurer can't deny a claim on the grounds of genetic disorder. So, for example, if a person is a diabetic and gets insurance, then after the waiting period is over, the insurer can't reject her claim saying diabetes is a genetic disorder.
"Once insured, the insurer can't exclude genetic disorders. Even genetic disorders that manifest later like the Huntington's disease can't be excluded once the policyholder has bought insurance. However, at the time of entry into a policy, insurance companies still have the freedom to underwrite the proposal and to insure a person based on their underwriting criteria. So insurers can choose to insure a person with a genetic disorder like Down Syndrome or charge extra premium or reject the proposal based on the medical condition and policy conditions filed and approved by Irdai," said Antony Jacob, chief executive officer, Apollo Munich Health Insurance Co. Ltd.
But the industry wants more clarity on this aspect. "There are two approaches: one is to not have any sort of genetic disorder in the exclusion, and the second is to work out a list of genetic disorders that can be specified in the exclusion list. We are seeking clarity on this," said an official who didn't want to be named as the matter is still being deliberated.
However, according to Gulati, a broad exclusion of genetic disorders may impact pricing in the long term. "We are reviewing various options to minimize the impact to the consumer," he added.
The industry is yet to take a concrete view on pricing, but it is bound to put a much stricter process in place for buying health insurance. "Insurers may ask you for some more details about your family history and may insist on medical checks. They are going to get stricter about who they insure," said Kapil Mehta, co-founder, SecureNow.in. But this will not impact pricing, he said. "The claims ratio in individual health insurance is 70-80%, so they have enough room to absorb costs. The pressure is on group health insurance policies, and genetic disorders were never excluded in those policies anyway," he said.
Irdai's notification is a step in the right direction as it makes exclusions sharper. However, the other critical aspect—of adding new exclusions mid-way in an existing policy—remains unaddressed.