Cyber insurance is a new product in the market but it has proved to be essential for businesses in a country like India that prides itself as a software exporter. More and more companies are taking Cyber Insurance against cyber crimes occurring now a days.
This insurance has become a necessity due to the growing use of the internet and the utilization of online services. It has become mandatory to use safer measures to stay safe from cyber-crimes.
Moreover, most industries these days maintain their data online and use online payment gateways for a large part of their work. So, it becomes necessary to stay safeguarded against online frauds and other such threats.
We need to take adequate security measures while sharing data or making online transactions.  Businesses need cyber insurance to safeguard themselves against any eventuality. This is despite new applications coming up every day to make online experiences safer than ever.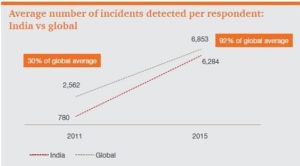 The threat perception and requirement of insurance vary between organizations. E-commerce companies are the most susceptible to cyber threats. Websites that need passwords or companies that collect an organization's data are also vulnerable to data theft.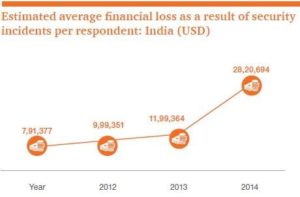 Source: PWC Report on Cyber Security in India
Some of the common features of cyber insurance policies available in India are as follows:
Damage to the business
The policy covers any financial loss due to theft of data, loss of communications or threat of vandalism discovered within the policy period. Such restoration cost covers data and systems that the attack affects.
Loss due to interruption in business activity
The policy also covers loss of income due to disruption in business. It also covers expenses incurred for restarting activities after a cyber-attack. This is a significant add-on as organizations in India are the second most vulnerable to cyber-attacks.
Third-Party liabilities
Many e-commerce companies save confidential information such as the bank account details of users. This makes them susceptible to cybercrimes. The policy covers third-party liabilities arising from the loss of this data. A company can take a separate cyber liability policy for covering only third-party liabilities.
Legal expenses
The insurer will also provide for the legal expenses. This is paid to the insured once data theft or a security breach is detected. However, an insurer can release overall expenses, including those for non-covered losses, in advance as well. In such cases, the additional expenditures are returned to the insurer.

General Exclusions
The general exclusions of cyber insurance policies are as follows:
Former period prohibition
A cyber liability policy also has a retroactive date similar to other professional liability policies. The insurer will address all claims arising after the retroactive date. However, those linked to a phase before the retroactive date will be excluded. Also, once the new policy comes into effect the retroactive date gets updated.
Popular problems
The policy excludes claims for problems already prevailing in society. The insurer takes these decisions after conducting thorough research for finding out the exact situation.
Poor security policies
All organizations should put in place safety procedures and proper policies. An insurer may reject claims that arise due to poor policies.
These are some of the prominent and shared features and exclusions of the policy. However, benefits will vary among different policy providers. The premiums and advantages also depend on the features and the organization. Therefore, it is better to understand your organisation's safety requirement and insurance needs before proposing the cyber policy.
An insurance broker is the best person to find you a perfect policy. You can also visit a web portal that allows you to compare policies and buy best cyber insurance against cyber crimes.
SecureNow has the expertise and a web portal to assist you in comparing and selecting the best scheme. Online insurance providers not only provide the ease of opting for the policy online but also offer some additional benefits like easy processing and extra support.