Any individual with an insurable interest in a property should purchase a fire insurance policy. The policy is a comprehensive cover that provides for losses incurred due to a fire. Any individual who owns a property, plant, manufacturing unit, stocks, bank and financial institution, etc. should purchase a fire insurance policy. The premium for the policy is based on the market value of the property which is determined using predefined methods.
Below mentioned assets are not covered by the fire insurance policy:
Specific Items such asbullion, unset precious stones, curios, work of arts, manuscripts, plans, drawings, securities, obligations or documents, stamps, coins or paper money, cheques, books of accounts, computer system records, explosives unless specifically mentioned.
Cold storage stocks damaged due to change in temperature
Electrical fittings, machines or apparatus, damaged due to short circuiting or overload
Boilers, economisers or other equipment where steam is generated inside the machinery if damaged by its own implosion, explosion.
Any perishable goods like fruits and vegetables.
Intellectual property
Any other asset which has been excluded as per agreement between insurer and insured
Any asset for which a third party is liable to bear the damage under an agreement with insured.
Items mentioned in the first point can be covered by paying an extra premium and based on agreed value.
For more information on how various assets are covered under a fire policy see How to decide the sum insured under fire insurance policy?
Case on Excluded Assets in Fire Insurance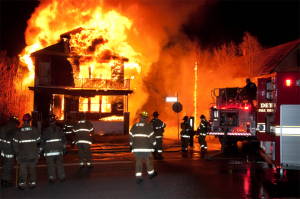 Shapoorji & Sons is running a food processing unit for preparing and packaging dried vegetables and pickles. It purchases and processes more than Rs. 50,000 worth vegetables and fruits everyday.
Shapoorji also has a storage unit to store the perishable goods while they are under process. One night the circuits for the cold store short circuited and raw material worth Rs. 10,000 was damaged due to the change in temperature.
While there was no fire the transformer, which stabilized the power for the store had been burned and was rendered useless.
Shapoorji approached the insurer for the damages, but the claim was rejected as both the perishable goods stored in the storage and short circuit damage is excluded under the fire policy.
The firm had to bear the cost of raw material and stabilizer from its own pocket.
Fire Insurance Policy for Gold Exchange Office
Nomura Gold Exchange is a 'Cash for Gold' business with offices throughout the country. They insure all of these offices under a fire policy for any loss. However, the stock of Gold bullion, jewellery and cash are covered only on declared value basis, under the policy.
Read More: What is covered under fire insurance policy?
Leaving the firm uninsured for any excess cash or precious metal kept in their offices. Similarly, documents of lien and securities kept with the firm are not insured for fire loss. Thus, Nomura must take extra care in storing such documents, and usually, these are shifted to a secure storage facility every day.
Third Party Assets
Essel Porters Ltd. uses machinery leased from Porting Facilities Ltd. According to the agreement between the two firms, any damage to the machinery at Essel's premises will be covered by Porting facilities and not the Essel Porters.
Porting has already taken a fire insurance on the leased machines, and thus Essel cannot cover or claim the damages from their own fire insurance for the same.
Intellectual Property
7M Limited is an innovations firm. Offices of this firm are generally full of innovative ideas, designs, and concepts. Fire insurance does not cover the loss of such documents though, and as a policy, all of these concepts and any documentation related to them must be submitted to the central computer system each day.