There are unique benefits to choosing either type of group health insurer. A few private insurers provide faster claim settlements as compared to PSUs. However, PSUs offer GIPSA (General Insurance Public Sector Association) packages through PPN-listed hospitals which brings in a greater rationalization of the claims cost structure in billing. Standardized packages and rates safeguard customers from being charged more and ensure better utilization of the sum assured. It contributes to a lower cumulative claim amount. The chart is indicated below: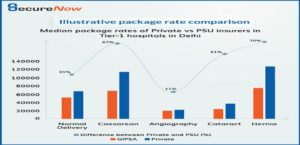 For further information log on to www.securenow.in
In the private sector, group health insurance policy can be purchased from insurance companies such as , SBI General, Bajaj Allianz, Niva Health, Digit etc. These companies offer a variety of plans to meet the needs of different groups, such as small businesses and large corporations. In the public sector, Group Medical Coverage is offered by National Insurance, New India Insurance, United Insurance etc. These plans are often less expensive than private sector plans but may have more limited provider networks. Additionally, many states have their own state-run health insurance marketplace, which may offer additional options. It's important to shop around and compare plans from different insurers to find the best fit for your group's needs and budget.