Published in Mint on Apr 27 2015
Home is a name, a word, it is a strong one; stronger than magician ever spoke, or spirit ever answered to, in the strongest conjuration." These lines belong to Charles Dickens, but are apt for all of us. Those who have suffered in the earthquake in Nepal and parts of India stand testimony to how easily houses can get destroyed and how difficult it is to rebuild. Memories of land slides in Uttarakhand and floods in Jammu and Kashmir are still fresh. While there is little we can do against natural disasters, we can reduce some of the consequent hardships by having home insurance, which protects against any damage to the house and valuables in it.
A basic home insurance policy covers fire and allied perils, including lightening, storm and flood. You may have to pay extra to cover earthquake so check before buying. A comprehensive householder's package policy also insures the contents of a house against burglary, damage, and mechanical or electrical breakdown.
Despite its importance, home insurance is not a popular choice. Sanjay Datta, chief underwriting and claims, ICICI Lombard General Insurance Co. Ltd, said, "Home insurance is poorly sold in India; it counts for less than 1% of industry premium in terms of sales. People are either not aware of home insurance or are reluctant to buy it. They don't see the risk to their property—be it fire or an act of terrorism. The unfortunate part is that even the insurance industry is not pushing the product."
Chosen with care, a home insurance policy can provide comprehensive coverage. It typically has two parts—one covers the structure of the house, and the other covers the contents such as valuables, furniture and electronic appliances. "One can opt for both structural and content cover, or for either one. There are also different riders that can be added," said Chetan Joshi, group director, Mondial MMX Financial Consultants Pvt. Ltd, a Mumbai-based investment advisory firm.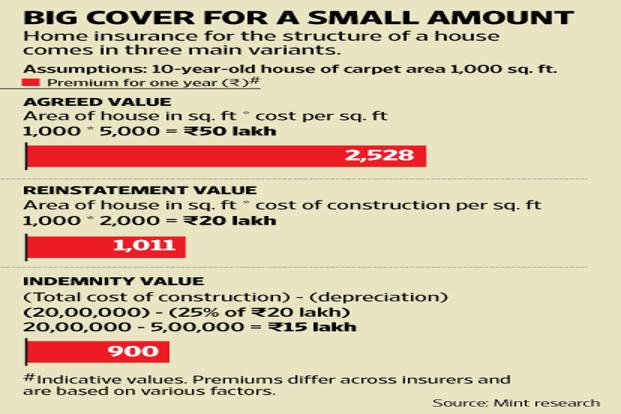 Cover for structure
Structural cover for a house comes in three ways. First is based on the reinstatement value where the insurer gives the construction cost of the house excluding the value of the land. Second is based on the agreed value of the property and includes the value of the land and the construction cost. Third is based on the indemnity value, which takes into consideration the cost of construction and the depreciated value according to the age of the building.
It is important to understand the inclusions and the exclusions. "A lot of mis-selling takes place in home insurance policies. People are fooled into believing that they will get a cover of a crore or two if they buy an expensive policy. Often, the structure cover formula, which is based on the area of the house and the approximate construction cost in the city, is not explained properly," said Rohit Shah, founder and chief executive officer, Getting You Rich, a financial advisory firm.
Let's take an example. Suppose an individual wants to insure her 10-year old house with an area of 1,000 sq. ft. The cost of the house, based on parametres such as locality, is Rs.5,000 per sq. ft or Rs.50 lakh. Its cost of construction is Rs.2,000 per sq. ft or Rs.20 lakh. If the home insurance policy is bought on reinstatement basis, the sum insured will be the area of the house multiplied by the construction cost per sq. ft (1,000 x 2,000)—Rs.20 lakh. If home insurance is bought for the same house on agreed value basis, the sum insured will be the area of the house multiplied by the cost per sq. ft (1,000 x 5,000)—Rs.50 lakh. On the basis of market value or indemnity, the sum insured will be the total cost of construction minus depreciation (Rs.20 lakh minus Rs.5 lakh considering depreciation of 25%), which makes it Rs.15 lakh.
While the market value or the reinstatement value are common ways to decide cover, the agreed value formula is not frequently used. Bajaj Allianz General Insurance Co. Ltd is one insurer that gives home insurance on agreed value basis. "The sum insured in this is the area of the house multiplied by ready reckoner cost. This cost is declared by local authorities and the insured can also engage a government approved valuer to value the house. The cost would depend on several factors such as the locality, city and quality of construction," said Sasikumar Adidamu, chief technical officer, Bajaj Allianz.
Cover for content
While the structure of a house is the most expensive to rebuild, the value of the contents of a house, too, can add up to a large amount. There are two basic ways to insure contents: buying a cover that factors in depreciation, and buying on a reinstatement or new for old basis.
One has to remember that in content cover, the valuation of all insured items should be disclosed to the insurer, through bills and invoices. "People often make a mistake in understanding the overall content cover. One can get cover even for gadgets. Of course, the insured will have to pay premium for that particular gadget separately," said K.K. Mishra, managing director and chief executive officer, Tata AIG General Insurance Co. Ltd.
Under the reinstatement cover for contents that is offered by Bajaj Allianz, for example, you get the same amount of money for the insured items as if they were new, without any allowance for wear and tear or depreciation. But there are conditions attached, such as the minimum amount of cover being Rs.5 lakh or not lesser than 10% of the coverage for the house, and others.
Additional covers
One can further strengthen home coverage by taking additional covers. Burglary or theft of jewellery and ornaments is one such, but the value of jewellery differs across insurers. Rent cover is another option. This can be used if one needs to stay at a temporary location, but the amount of coverage and the time period are specified. "A rent cover is helpful as it takes care of your rent on an alternate accommodation in case your home is under repair," said Kapil Mehta, executive director, SecureNow Insurance Broker Pvt. Ltd. Insurance against terrorism for a house and its contents is also a possible addition. "There are no discounts on additional covers. An add-on cover can increase your sum insured each year. There is also a provision that accommodates items you forgot to mention in the proposal form," added Mehta.
Details to note
Take care of a few things while buying home insurance so that the policy can be effective.
Time period: Home insurance can be bought for a minimum of one year to a maximum of five years. Do remember to renew.
Suitability: A bank may encourage you to buy its home insurance product along with the home loan. Choose only a policy that suits your needs.
Apartments: While an individual apartment may be covered, this won't help if the rest of the building is not. "In the event of a loss, if the property is insured on an agreed value basis, the insured gets back the agreed value and the ownership of your house is transferred to the insurer. This helps because if your house is in a multistorey building you will need to wait for others to reconstruct their house first. But if you are insured, you simply take the agreed value and you can buy a house elsewhere," said Adidamu.
Fine print: Home insurance policies are worded differently. For example, structure insurance may only be for building and not land, or only jewellery kept in the locker may be covered.
Tenants: If you are living in a rented house, you can insure only the contents and not the structure as you don't own it.
These are only some of the specifications. As with any kind of insurance policy, with a home insurance policy, too, the best results come through when the initial details are taken care of.