Conceptually and legally, Insurance is of two types – life and general insurance. Any insurance policy insuring anything other than risk to a person's life is a 'general insurance' or 'non-life insurance policy.'
General insurance policies will insure anything other than the life of an individual. For example:

Depending on what (the asset which is at risk or the risk itself) is protected, general insurance policies are classified as follows: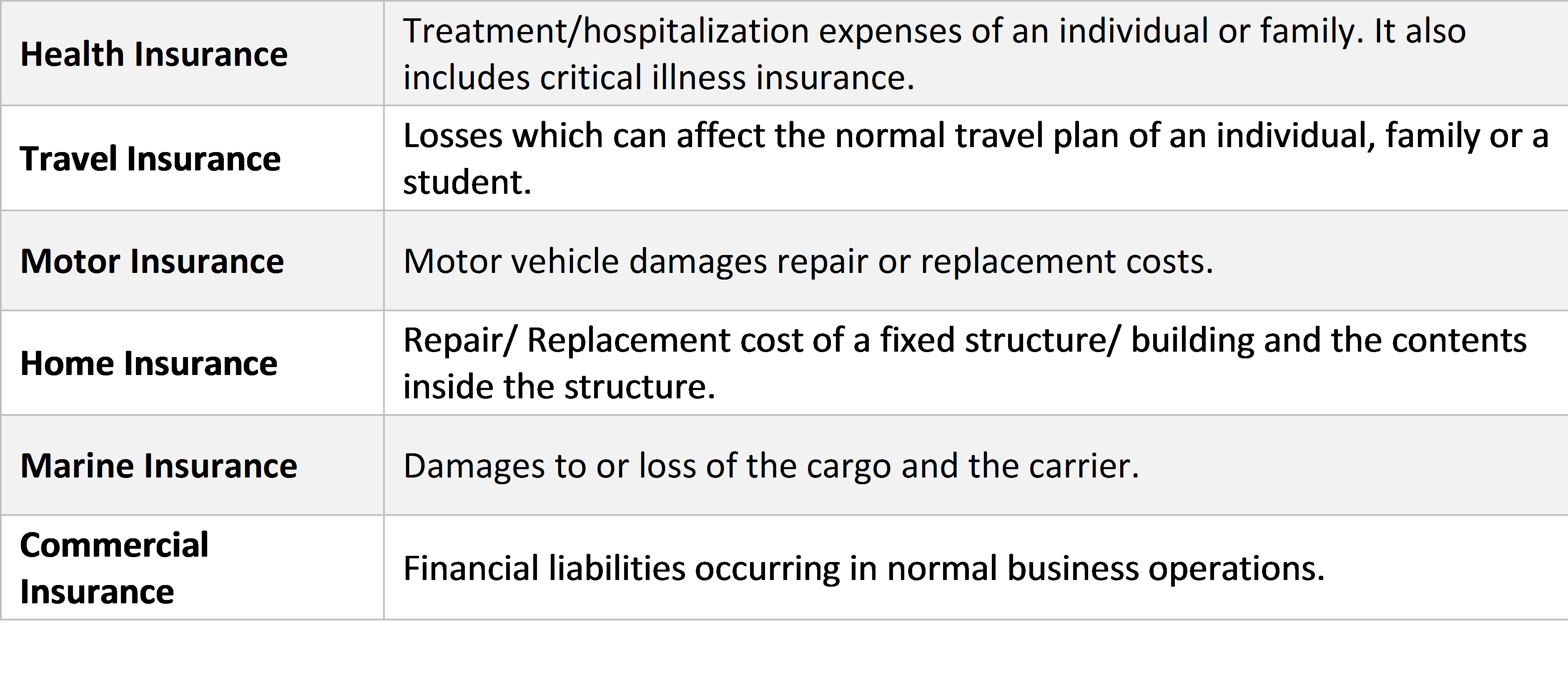 A Case of General Insurance Uses in Real Life
Rajiv Sarath, is a businessman, has a house, a car, and two kids. Apart from life insurance he and his wife, Kriti Sarath, can use different types of general insurance policies as follows:
Health & Critical Insurance
Rajiv falls ill and has been hospitalized. Neither Rajiv nor Kriti, both earning members, had anticipated this and therefore, neither have enough funds into savings to pay for the expenses immediately. However, luckily enough Rajiv has subscribed to a Family Floater Health Insurance Policy, which allowed cashless hospitalization for him and provided for the 80% of the treatment expenses.
In the unfortunate case of a critical illness, such as heart attack or cancer, being detected for Rajiv, treatment expenses would be significantly high. Critical Illness policy provides financial assistance in such a scenario by providing a lump sum to the family.
Other Insurance Policies Available to Rajiv & Family
Rajiv's home insurance policy provided about 70% of the losses (Approximately Rs. 5 lakh) caused to the house and its contents by an earthquake a few years ago.
Rajiv's car insurance also benefitted him by reducing the cost of repair from Rs. 25,000 to Rs. 5000, when his vehicle needed a major repair after being accidently hit by a construction vehicle on a construction site.
Going further, Rajiv and family go for an international vacation, they have insured their travel plan with a travel insurance, which will provide cash in case they lose their luggage, passport or currency in the foreign country.
Marine & Commercial Insurance
These insurance policies help Rajiv in his business at various levels. For example: Whenever he sends a shipment to his clients, he wants to ensure that any financial loss arising out of damage to the goods on the way to them, does not fall entirely on his pocket. To ensure this, he uses a marine transit insurance policy. He also has different commercial liability policies which cover his legal liabilities in case any damage is caused to a third party or employees by his goods or in daily operations.