Published in Mint on Oct 18 2015
One of the joys of being a senior citizen is that your working days are behind you. This also means having working children and financial assets that make buying a life insurance policy unnecessary. However, what you need to consider seriously is a health insurance policy. Hospital bills are exorbitant, so having health insurance helps. It ensures that you don't dip into your retirement income or deplete your savings in paying for medical care. But don't just buy any policy that passes off as health insurance. Understand the types of policies that are there and what you need.
Health insurance for you
There are broadly two kinds of health insurance policies: indemnity and defined benefit policies. A basic health insurance policy is an indemnity product that pays for your hospitalisation. It covers hospitalisation expenses, pre- and post-hospitalisation expenses and listed day-care procedures. Defined benefit policies pay a stipulated sum on an insured event. The most popular being a critical illness policy, it will pay the sum assured—the defined benefit—if you contract any of the insured critical illnesses, and the plan will then terminate. But a basic health insurance pays for your hospitalisation up to the sum insured in a policy year and can be renewed for life. What you need first is an indemnity product.
The good news is that the rules make it mandatory for insurers to renew health insurance for life and give policies to first-time buyers at least till the age of 65 years. But if you are older, your choice narrows down considerably. For instance, for a 70-year-old, according to the Mint Mediclaim Ratings, there are 15 plans in the market for a sum insured of Rs.5 lakh, whereas a 35-year-old has 34 options to sample from. Increase the sum insured to Rs.20 lakh, and there are only 7 plans to choose from if you are 70 years old.
"For first-time buyers, insurers are required to offer health insurance at least up to 65 years of age. Beyond that, it usually gets difficult for a person to get insurance over 70 years, and quite difficult in the 80s. Since health insurance policies are renewable for life, insurers normally carry out proper medical underwriting of individuals who are over 45 years. They have the right to reject a policy if the customer has serious or chronic illness," said Sanjay Datta, chief, underwriting and claims, ICICI Lombard General Insurance Co. Ltd.
However, it is not a cakewalk to get insurance if you are below 65 either. "Health insurance policies are renewable for life, so if an insurer agrees to insure a senior citizen it has to provide the cover for life. For this reason insurers will carry out proper medical underwriting of individuals who are over 45 years. Insurers have the right to reject a policy if the customer has serious or chronic illness," said Datta.
Although, it may not be as bad as it used to be. "The acceptance rate is much higher now than, say, a couple of years ago. But, in general, if you are over 55 years of age, it would be difficult to buy health insurance. Given that at this age you are bound to have some pre-exiting ailment, most insurers that agree to insure you after assessing the severity of illness will load the policy. This can be anywhere between 10% and 50%," said Kapil Mehta, executive director, SecureNow Insurance Broker Pvt. Ltd.
In sum, if you are in your later years or getting there and are shopping for a health insurance plan, you will have to jump through hoops to get one. Even if you get one, you need to understand the benefits of your policy. Here are three important factors to consider.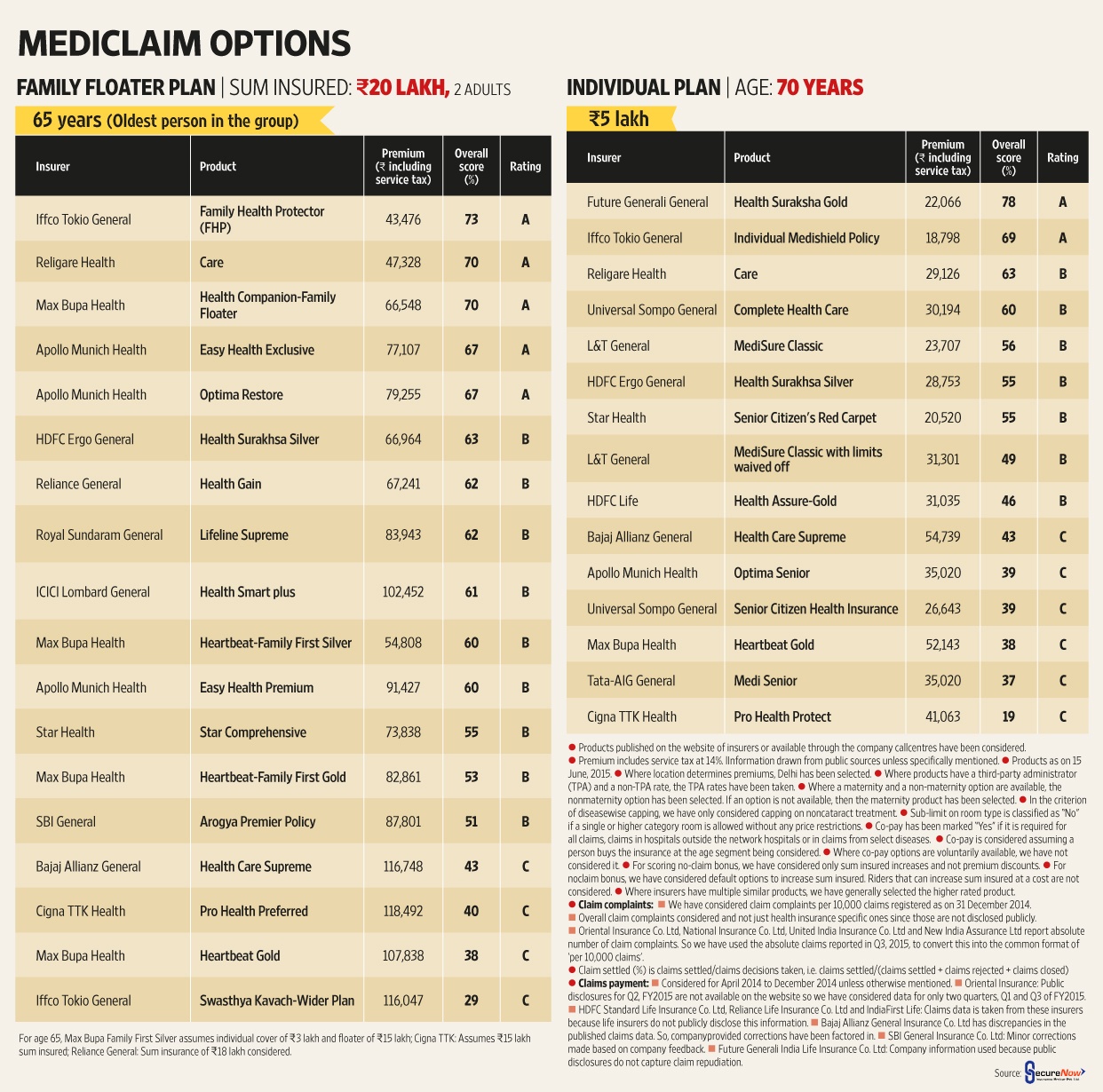 Co-payment and sub-limits: Co-payment is the most common restriction in policies for senior citizens. Co-payment means that every time an insured makes a claim on her health policy, she will have to bear a percentage of the claim amount, according to a pre-decided figure. As you get older, the need for medical attention increases, so insurers ask you to co-pay to limit their liability. Read the co-payment clause carefully. You might get a cheaper premium for a higher co-payment clause, but that only means a higher out-of-the-pocket expenses at the time of hospitalisation. "Co-payment is the most common clause in a senior citizen policy, but there are other sub-limits that reduce the liability of an insurer, such as sub-limits on room rent or sub-limits on specified surgeries. It's important to take stock of all such restrictions because these may make it easier for a policyholder to get insured but they also mean that at the time of a claim, the policyholder will end up paying more from the pocket," said Datta.
Pre-existing ailments: These are the ailments that exist at the time of taking a health insurance policy and are excluded from the cover during the waiting period. A pre-existing ailment is defined as a condition, ailment or injury for which the insured had symptoms and was diagnosed or received medical treatment within four years before buying the policy. So, if you have a pre-existing ailment, your insurer may agree to offer you a health insurance policy depending on the severity of the ailment, but most will not cover the pre-existing ailment or hospitalisation associated with it for at least the first four years.
Some insurers may have a lower waiting period. "Customers may pay a lower premium for a higher waiting period on pre-existing ailments, but one needs to assess their health and then take a call," said Mehta. "Other than that, there are certain named ailments, like cataract, that insurer's won't cover initially, and some may even have sub-limits on these ailments. This is another feature that customers need to watch out and be careful before trading in for cheaper premium," he added.
Premium: The last but very important factor is premium. If you are a senior citizen you are bound to pay a higher premium. So, you might get tempted to buy a policy that is cheap. However, don't just compare policies on the basis of premiums. You need to make sure that your plan is comprehensive with fewer sub-limits and co-payments.
"It's not a good idea to settle for a cover which is restrictive although the premiums may be low. Instead what senior citizens can do is buy a health insurance plan with a basic cover of Rs.2-3 lakh and then buy a top-up cover. Top-up covers not only come with relatively relaxed underwriting but also they are cheaper," said Mehta. Top-up health insurance, also called add-on plan, is a regular indemnity plan that covers hospitalisation costs. They are cheaper as they come with a huge deductible. A deductible is that portion of the claim amount that is not covered and has to be paid by the insured first before the benefits of the policy can kick in.
So a deductible of, say,Rs.3 lakh in a top-up plan means that expenses up to Rs.3 lakh will have to be paid by you and anything over that gets covered by the top-up plan. So you can use your individual health insurance policy to cover the deductible amount of Rs.3 lakh. The idea of a top-up plan is to enable you to increase your existing health cover at an affordable cost.
What you need to do
You need to start with buying a basic health insurance policy to make sure you don't have to significantly dip into your savings. Other than that you could consider a critical illness policy that will pay a defined lump sum if you contract a critical illness. A defined benefit plan works more like income supplement plans that provides some amount of income. "Consider critical illness policies that cover ailments that senior citizens are likely to have like Parkinson's disease," said Mehta. So consider a critical illness plan that is comprehensive and covers at least the most common critical illnesses.
"A comprehensive health insurance policy is the first cover that anybody should buy and then one can top it up with a critical illness policy. One of the most important factors to consider before buying critical illness insurance is to look for diseases that are being offered under the policy. It is also critical to evaluate whether it makes more sense to own a policy with lot of restrictions or pay a little extra but have no restrictions in the form of sub-limits. A comprehensive medical insurance policy that takes care of all hospitalisation expenses takes away a lot of worries," said Somesh Chandra, chief operations officer and chief quality officer, Max Bupa Health Insurance Co. Ltd.
So, if you are a senior citizen and you don't have health insurance, you need to start looking for one immediately. The fact that premiums qualify for a tax deduction up to Rs.30,000 under section 80D for senior citizens over 60 years of age is an added incentive.