Published in Mint on 6th March, 2018.
The fuzziness in drafting exclusionary clauses has made buying a health insurance policy a risk in itself in India. Vague, broad-based definitions and interpretation of clauses can leave you with a policy but no real cover. But now it's time for a clean-up. In a 26 February 2018 judgment, the Delhi High Court indicated that the insurance industry needs to clean the ambiguity around exclusions, and the buck stops with the Insurance Regulatory and Development Authority of India (Irdai).
The High Court order is important for you on two counts. One, it wants insurers to remove any scope of subjectivity in the way they define exclusions—that is, what a health insurance policy will not cover. And two, the court has objected to insurance companies inserting clauses on exclusions after a policyholder has bought a policy. So what will the court judgement mean for the industry and why is it good for policyholders? Read on.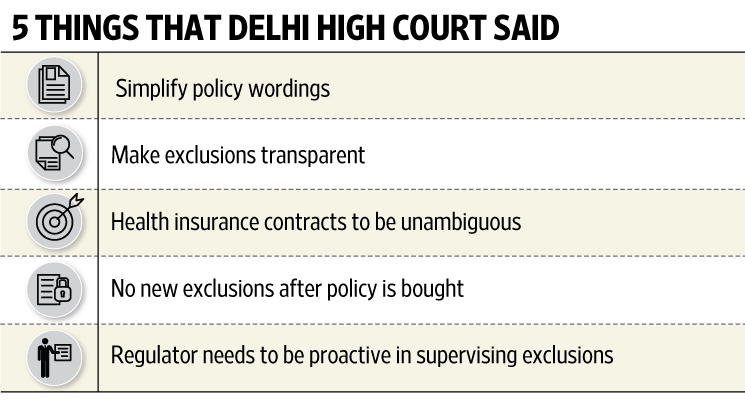 Cannot add new exclusions
Jai Parkash Tayal took United India Insurance Co. Ltd to court because the insurer denied his claim on grounds that his ailment—hypertrophic obstructive cardiomyopathy—was a genetic disorder and genetic disorders were excluded from the policy.
But this is not how Tayal had bought the insurance cover. The insurer, on an earlier occasion, had even paid his claim. However, it subsequently denied the claim because it introduced a new clause that excludes genetic disorders from the scope of coverage.
Tayal, as per the court judgement, was not made aware of this change that had been introduced. According to Kapil Mehta, co-founder, SecureNow.in, adding new exclusions for existing policyholder is a breach of the principle of 'utmost good faith', which is the basis of insurance contracts. "It's unfair for customers who are paying their health insurance premiums to be denied a cover just because a new exclusion was added upon renewal of a contract. This makes the contract even more one-sided," said Mehta.
"Exclusions should be stated at the time of buying a policy and not inserted later on. We have seen several examples of insurers inserting new exclusions through new product launches. For instance, some insurers now exclude specific cancer treatment protocols and this applies to existing policyholders as well which is unfair," he added.
Broad-based definition of genetic disorders
The second and a very important implication of the court order is to push the industry to clean-up its policy wordings, to make contracts transparent and remove any scope of ambiguity and subjectivity. Excluding genetic disorder is a classic example of allowing ambiguity to seep in. The court points out that 'genetic disorder' is a broad-based term, and could lead to enormous discretion with an insurer to reject the claim.
So, an insurer may deny a person who suffers from thalassemia on the ground of excluding genetic disorders and because it's a known pre-existing condition. But what happens when a healthy person buys medical insurance and many years later develops diabetes, which can be seen as a genetic disorder? Can an insurer reject the claim? Due to factors like these, the court order recognises the need for a sharper definition of genetic disorders. It says: "The exclusion of genetic disorders in all forms would be contrary to public policy. Several of the prevalent medical conditions which affect a large mass of population, including cardiac conditions, high blood pressure, diabetes in all forms, could be classified as genetic disorders. The entire purpose of taking medical insurance would be defeated if all genetic disorders are excluded."
The order also notes that to exclude genetic disorders there has to be genetic testing, which is a complex and expensive process. "The judgement wants insurers to specify what genetic disorders are excluded at the time of buying a policy. The idea is to be as exact and specific as possible. For instance, insurers can say that they will exclude Downs syndrome, but if they just say genetic disorders are excluded then an ailment that manifests in the future, which can be traced to a genetic disorder, can get rejected which will be unfair," said Mehta.
Dr Bhabatosh Mishra, chief operating officer, Apollo Munich Health Insurance Co. Ltd, said that the judgement will lead to better clarity, which is good for customers: "A pure genetic disorder like Huntington's disease, Down syndrome and ailments with a genetic disposition where the likelihood of getting the diseases goes up are two different things but can be used interchangeably in the absence of a clear definition." "Just because there is a family history of diabetes, it would be unfair to deny a claim to the policyholder, calling it a genetic disorder. Insurers do consider family history while giving a policy, but this filter should only apply at the time of buying the policy and the judgement doesn't seem to have a problem with that. We await final interpretation and clarity by the regulator," he added. The court order is still being deliberated in the industry with some expressing concerns that it may also mean that insurers are bound to cover individuals with genetic disorders, which could impact premium adversely. Meanwhile, High Court's verdict in favour of Tayal needs to be cheered by policyholders, because this could eventually lead to better contracts.