Why there is a need for Workmen Compensation insurance?
A workmen's compensation policy is a commercial insurance policy that covers the legal liability of an employer under the Workmen Compensation Act of India, which is monitored by the Ministry of Labour & Employment.
Laborers have the highest probability of injuries or death on the worksite for which this policy provides compensation.
Workmen or employees are the most valuable assets of any company. The responsibility to provide them with a safe working environment lies with the employer. This is where workmen's compensation insurance comes into the picture.
The below infographic explains the importance of this policy brought you by SecureNow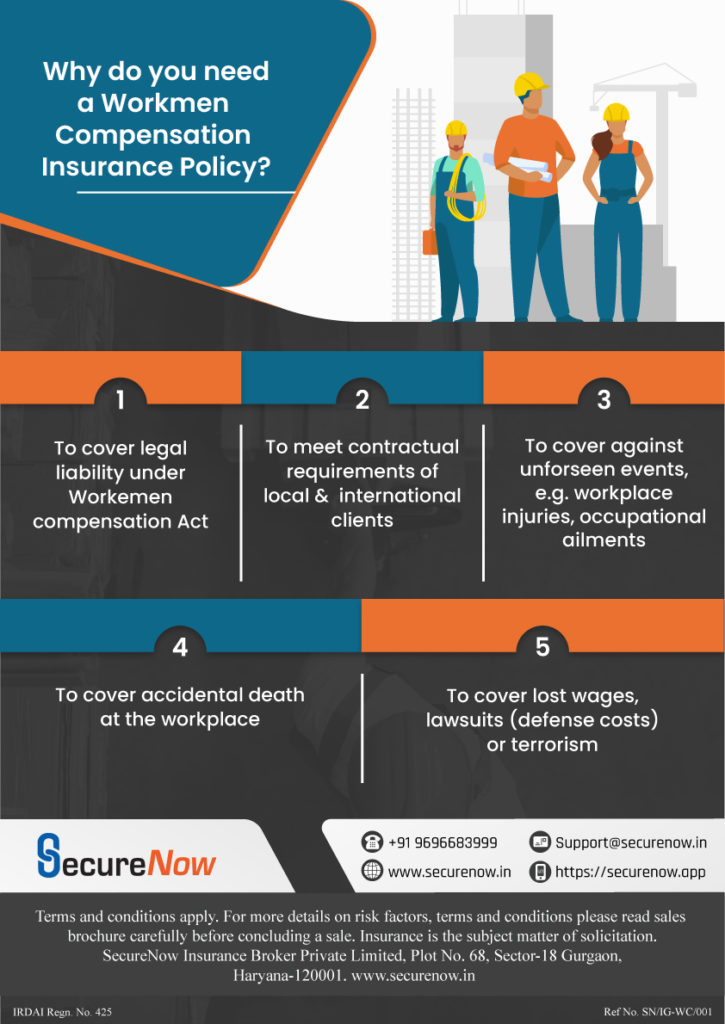 Benefits of the Workmen Compensation Policy
The Workmen's Compensation Policy protects the interest of the workers under the Workmen Compensation Act of 1923. The policy holds the main employer or contractor financially responsible to pay compensation to employees involved in a mishap at the workplace.
The compensation amount is decreed by the Workers Courts on a case-to-case basis. As there is no upper limit on the liability, a WC Policy comes as a beneficial plan.
How SecureNow can help you?
If you want to find the right insurer, you need to compare the available companies for workmen's compensation policy on the above-mentioned criteria. SecureNow helps you do just that. We are a tech-focused insurance broking company.
You just need to fill in your contact details. Get the quotes in just 5 mins with our inbuilt calculator.
We provide industry-specific coverages as the cover and risks vary considerably by industry. With SecureNow, you can compare the best policies and buy labor insurance online. We provide deeply researched workmen compensation quotes along with their coverage details.
Receive your risk cover note instantly.
For more details click on www.securenow.in or SecureNow : Best rates for Workmen Compensation Insurance or Employees Compensation Insurance